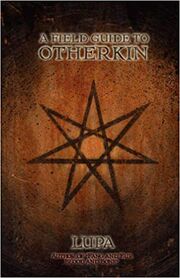 A Field Guide to Otherkin was written by Lupa and published on April 20, 2007. 
This book was the first book focusing on the otherkin community in its entirety, and was intended to give outsiders an overview of the community. It relied heavily on responses to surveys which were distributed throughout the community, as well as some online interviews and citations from various otherkin websites.[1]
 Book's Description from the Amazon page: 
The Otherkin community is a small but growing subculture of people who identify in some way - spiritually, metaphorically - as something Other than human. Some resonate with dragons while others believe they were elves in another life and still others resonate with wolves, great cats and other earthly animals. Whether Otherkin yourself, or simply curious, this book is the first to offer you an in depth look into this unique community.[2]
Lupa discontinued printing of the book on May 1, 2013. [3][4] Copies of the book are available, but the price has risen over the years. 
Orion Scribner made their notes about the book, "Orion Scribner's marginalia upon Lupa's A Field Guide to Otherkin" publicly available.[5] 
ISBN-13: 978-1905713073
ISBN-10: 190571307X
References
Community content is available under
CC-BY-SA
unless otherwise noted.