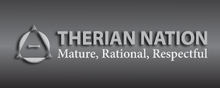 Therian Nation is an ongoing project started by Wolf Daughter in 2016. Therian Nation is an educational Youtube channel created in response to all of the "teenwolf" and cringe videos which were more prevalent than factual information on Youtube. Wolf Daughter saw the need for a professional and adult approach to sharing information about Therianthropy. The videos are public and easily accessible for new and old Therians, and anyone interested in learning about Therianthropy. The pseudonym Shannon Jackson was created in the hopes that the videos would also appeal to a normal human audience.
The popular blogging site Tumblr, is infamous for its misinformation. A Therian Nation blog was also created to help spread more accurate information about Therianthropy on Tumblr.
Therian Nation also seeks to renew the interest in the history and research of the online Therian community by gathering links to archived websites and essays by older members of the community. This is in the hopes of returning to the roots of the Were/Therianthrope community.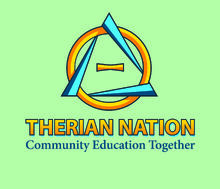 The rough drafts of scripts are posted to many of the community forums in order to seek peer review before the videos are recorded and shared. Finalized written scripts are shared publicly through Google Documents.
In 2019 the logo colors were updated in the hopes that it would be more attractive and appealing to a wider audience. The tagline was also updated.
Surveys

On February 27, 2017, Therian Nation created a questionnaire on Google Forms titled " Is there a correlation between animality and enjoying the outdoors?". ( https://goo.gl/forms/rRdYpjZ0fh6o4LJC3 ) Responses have been closed, but results can be viewed.
Links
Therian Nation Youtube Channel
This article, "Therian Nation", is a stub.
That means that someone helped by starting this page, but it doesn't cover the subject well enough yet, and could have more details. You are invited to add content to this page. Thank you!
See more information about how you can contribute.