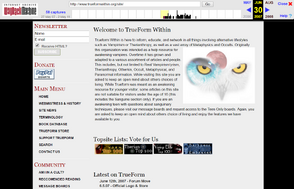 "Trueform Within is here to inform, educate, and network in all things involving alternative lifestyles such as Vampirism or Therianthropy, as well as a vast array of Metaphysics and Occults. Originally this organization was intended as a help resource for awakening vampires. Overtime it has grown and adapted to a various assortment of articles and people. This includes, but not limited to Real Vampirism/yrism, Therianthropy, Otherkin, Occult, Metaphysical, and Paranormal information. While visiting this site you are asked to keep an open mind about others choices of living." [1]
History
"Before there was TrueForm, there was Vampires of Eternal Night. V.O.E.N. (for short) was started on May 23, 2003, however before that is was called, Vampires of Mystic Twilight (which didn't last long).
V.O.E.N. was originally part Anne Rice and part Real Vampire site, though it progressed into a modern vampirism information and help site within a month of it's birth and the Anne Rice section was dropped. With bad graphics, a terrible logo and far to many terrible animations (blood bars, drops, spinning "gawthic" things). Few visited her site however, VampireKitten would not give up. A few "hundred" layouts later and many failed attempts at a logo and Vampires of Eternal Night was a success.
Shortly after an EZboards message board known as Darkened Souls was added into the V.O.E.N. mix and many people began visiting the site. The Darkened Souls name was dropped in 2005 and V.O.E.N. was granted it's own self titled message board. The Darkened Souls name is still in use today for VampireKitten popular podcast & radio show on Planet Paranormal.
At this point VampireKitten wrote many more articles about her experience to assist other awakening vampires, therians and otherkin in need.
After much deliberation, VampireKitten (and crew) had decided that Vampires of Eternal Night was no longer a suitable name for what they had built into a magnificent community of friends and family. V.O.E.N. is now known as Trueform or Trueform Within from this very day of September 29th, 2006.
Since 2003, Trueform has been helping the Vampiric, Therianthropic, Otherkin, and Occult community with a family oriented community and the spirit of Vampires of Eternal Night, we hope this site will be here for years to come." [2]
Most of the links to articles are broken. However, "Thoughts on Several Aspects of Therianthropy" by Madd is available. [3]
There was also a TrueForm Myspace page for a few years. It is currently still available for viewing, but inactive. When Myspace changed the format and relaunching in 2013, the chats and articles hosted there were lost.
References
↑ TrueForm Within Archive http://web.archive.org/web/20070630220307/http://www.trueformwithin.org/site/
↑ Webmistress and History http://web.archive.org/web/20070705120701/http://www.trueformwithin.org/site/index.php?option=com_content&task=view&id=79&Itemid=53
↑ "Thoughts on Several Aspects of Therianthropy" by Madd http://web.archive.org/web/20070723102220/http://www.trueformwithin.org/site/index.php?option=com_content&task=view&id=87&Itemid=28