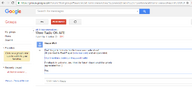 Were Radio was an online radio show launched on Saturday September 11th 1999[1] and hosted by RazzaWolf, the show was focused on therianthropy.
It consisted of a weekly podcast airing on Saturdays comprised of 2 segments; in the first part of the show Razza would discuss items of emerging importance within the Were (Therian) community, and in the later part of the show Razza would respond to listener reactions to the previous weeks show[2]. The show included guest speakers at times and occasionally some debate.
The show had a run for about a year or so before coming to an end. After the show had ended, an archive of some of the episodes was maintained by Anton Lupus[3] on Lycanthrope.org.
Transcripts of Were Radio
Some portions of the Were Radio show have been transcribed and can be found on Lone Wolf's Den:
Taken from December 8th 1999 show: http://wolfden.critter.net/interest/razwolf4.htm
Taken from August 14th 2000 show: http://wolfden.critter.net/interest/razwolf1.htm
References
↑ https://groups.google.com/forum/?fromgroups#!searchin/alt.horror.werewolves/%22were$20radio%22%7Csort:date/alt.horror.werewolves/xhR3QQKBXwM/P8sVOUqdaEsJ
Community content is available under
CC-BY-SA
unless otherwise noted.